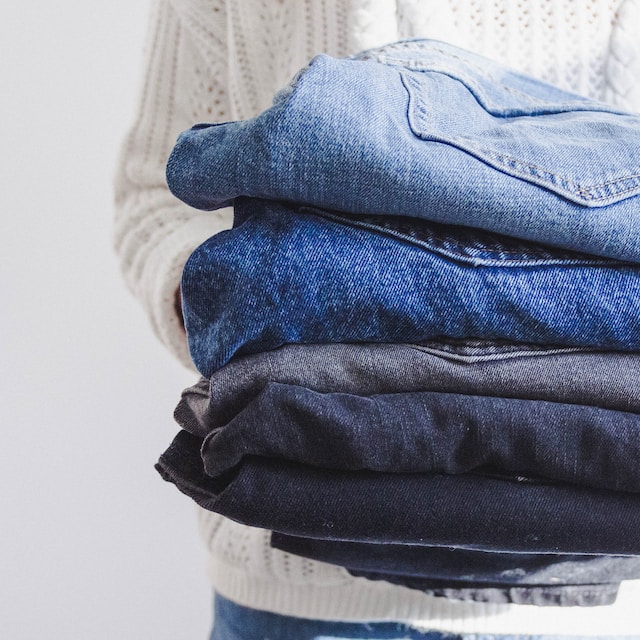 Sewing your own jeans can be a rewarding and cost-effective way to achieve the perfect fit for your unique waist shape. If you're decluttering and reorganising your wardrobe, you may want to take stock of how to choose jeans to fit your waist shape or make some alterations. In this guide, we will delve into the secrets of sewing jeans that flatter your waist, providing you with the comfort and confidence you deserve.
Understanding Your Waist Shape
Before diving into the sewing process, it's essential to understand your waist shape. Identifying whether you have a straight, hourglass, apple, pear, or athletic waist shape will help you make appropriate adjustments during the sewing process.
Straight Waist Shape
If your waist has minimal curves and is roughly the same width as your hips, you have a straight waist shape. Sewing jeans for a straight waist involves creating a balanced fit that doesn't accentuate or exaggerate curves.
Hourglass Waist Shape
An hourglass waist shape is characterized by a well-defined waist that is significantly narrower than the hips and bust. When sewing jeans for an hourglass figure, it's crucial to accentuate the waist while providing ample room for the hips and thighs.
Apple Waist Shape
An apple waist shape typically features a wider waistline and slimmer hips. When sewing jeans for an apple shape, focus on creating a comfortable fit around the waist while providing enough room for the midsection.
Pear Waist Shape
A pear waist shape is characterized by wider hips and a narrower waist. When sewing jeans for a pear shape, ensure a comfortable fit around the hips and thighs while providing a waistline that doesn't gap or feel tight.
Athletic Waist Shape
An athletic waist shape often features a straighter waistline with well-developed abdominal muscles. When sewing jeans for an athletic shape, consider providing extra room in the waistband area for comfort and ease of movement.
Taking Accurate Measurements
To achieve the perfect fit, accurate measurements are crucial. Follow these steps to ensure precise measurements for sewing your jeans:
Measure Your Waist
Use a measuring tape to determine the circumference of your natural waistline, which is usually the narrowest part of your torso. To sew jeans that fit your waist shape, measure your waist at its narrowest point. Cut the waistband to match this measurement and adjust the back yoke and darts for a tailored fit. This ensures comfortable, custom-fit jeans that flatter your waistline.
Measure Your Hips
Measure the fullest part of your hips, ensuring the tape is parallel to the ground. To sew jeans that fit your waist shape, measure your hips at their widest point and compare this measurement to your waist. Adjust the jeans' pattern accordingly, adding or reducing fabric as needed to create a comfortable and flattering fit for your unique body shape.
Measure Your Rise
The rise is the distance between your waistline and the crotch. Measure from the front waistline, between your legs, to the back waistline. Ensure the tape is snug but not tight. This measurement helps create a comfortable and well-fitting pair of jeans.
Measure Your Inseam
The inseam is the length from the crotch to the desired hemline. To measure your inseam for sewing jeans to fit your waist shape, stand upright, and measure from your crotch to the desired hemline. This ensures a tailored fit that complements your waist shape. Accurate inseam measurement is key to well-fitting jeans.
Choosing the Right Patterns and Fabrics
Selecting the appropriate patterns and fabrics is essential for sewing jeans and its maintenance that fit your waist shape comfortably. Consider the following factors:
Pattern selection: Look for jeans patterns specifically designed for your waist shape. These patterns often include instructions for making waist adjustments.
Fabric choice: Opt for denim with a slight stretch to ensure ease of movement and comfort. Choose a weight that suits your preference and the desired style of your jeans.
Making Waist Adjustments
Now that you have accurate measurements and the right materials, it's time to make waist adjustments to your jeans pattern. Here are some techniques to consider:
Adding Or Reducing Darts
Darts can be added or adjusted at the waistline to accommodate different waist shapes. They help create a more tailored fit. To tailor jeans for a perfect waist fit, measure your natural waist and the waistband's length. Pinch excess fabric evenly at the back if needed. Stitch or use darts for a custom fit, ensuring comfort and style. It's the key to well-fitting denim.
Curving The Waistband
Depending on your waist shape, you may need to curve the waistband slightly to prevent gaping or discomfort. To tailor jeans for a perfect fit, curving the waistband is essential. Measure your waist's unique shape, then taper the waistband accordingly. Pin and stitch it carefully, ensuring a snug, comfortable fit. This custom touch elevates your jeans' comfort and style, making them uniquely yours.
Adjusting Side Seams
If your waist is significantly different from your hips, you may need to adjust the side seams to achieve a better fit. When sewing jeans to fit your waist shape, adjusting side seams is crucial. Pinch excess fabric in a flattering curve and sew a new seam, tapering towards the waist. This tailored approach ensures a snug yet comfortable fit that complements your unique waistline.
Constructing Your Jeans
Once you have made the necessary waist adjustments to your pattern, it's time to start constructing your jeans. Follow these general steps:
Cut out your fabric pieces according to the pattern instructions, making sure to transfer any adjustments you've made.
Sew the front and back pieces together at the inseam and side seams.
Attach the waistband, ensuring it aligns with the adjusted waistline.
Insert a zipper or add a button fly, following the pattern instructions.
Complete the jeans by hemming the legs and adding any desired finishing touches.
Final Fit and Adjustments
After completing your jeans, it's crucial to try them on and assess the fit. Pay attention to the waistline, hips, and overall comfort. If further adjustments are needed, make them accordingly.
Conclusion
Unlocking the secrets of sewing jeans to fit your waist shape empowers you to create personalized, well-fitting denim garments. By understanding your waist shape, taking accurate measurements, making necessary adjustments, and using quality materials, you can achieve jeans that flatter and enhance your unique figure. So, grab your sewing machine, embrace your creativity, and enjoy the satisfaction of sewing jeans that fit your waist perfectly.
Join Us!
Sign up today to receive a FREE printable guide to decluttering ANY space and monthly emails packed with inspiration to help you on your tidying journey