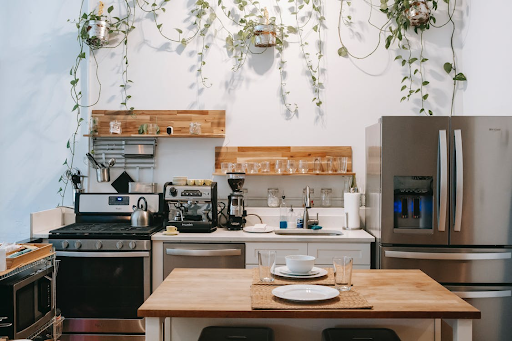 When was the last time you upgraded the kitchen? Most catching upgrades are exciting because you have a chance to redesign and reimagine the space that you cook, clean, and socialize in. The kitchen is known to be the hub of the home. People like to gather there around the place where the cooking happens, because it's like watching magic.
In medieval times, the kitchen was a place of magic because that's where people had their cauldrons. Life happens where you stand in the kitchen. From the rushed breakfasts in the morning before you go to school, to family meals, to sharing a romantic dinner with your partner. It doesn't matter whether you are entertaining or eating. The kitchen is a space that everybody wants to be able to enjoy. 
Whether you are planning to have new appliances integrated through the kitchen, such as a new dishwasher or a coffee machine. Or you are planning or ripping up the floors, enjoy the space in the way that you see it in your mind. From concept to creation, your kitchen should envision every single thing. You want it to be a space of relaxation and you want it to feel exciting to be in there. And with our kitchen design tips, you will be able to rock your space like nowhere else.
Think about waste
Let's consider bins such as recycling and for food waste. If you have to walk from one end of the kitchen to the other just to bring saucepans to the stove, then consider rearranging your kitchen. 
Think about your kitchen design and about the way that you move within your kitchen. You need everything to be in a seamless order so that you can move. Without having to walk backward and forward and exhaust yourself just trying to cook dinner. Keeping coffee grounds and tea bags near the kettle.  And the coffee machine is just good sense because then you just have to reach up in the morning and grab the coffee beans you need. If you love to cook and plan ahead, keep all of your plastic containers and cling wrap in a location close to the stove. Your portioning it can be bagged and put away ready to go.
Have enough room
You don't have to have the biggest kitchen in the world, but you do need to consider how you move within it. Having wide walkways in your kitchen is smart if you are planning on eating in your kitchen. But it's also smart if you plan to be able to cook freely. If you are stuck in a house that has a galley kitchen as the design, you're going to be pinched for space. So, consider where your stove is and where you're cooking appliances are versus where you need to stand to chop and prepare food. From here you can determine how wide your kitchen aisles should be. Be sure to adjust any kitchen islands.
Think about the flow of traffic
Don't worry, we're not expecting the cars and buses from outside to be funnelling through your house. Traffic flow in your kitchen is not just going to be about where you like to walk or stand. But where your family are going to go and where other people are going to come in. If you're constantly bumping into people, it's really not going to work. Especially if the traffic flows through the kitchen to another room. If that's the case, then having an island or another cooktop installed so that people can move around it is important. Also, ensure that the refrigerator is accessible to those moving through. This is as you'll find that people moving through the kitchen are just looking for a drink.
Pay attention to where you place your appliances.
One of the design flaws in a kitchen is placing appliances where they are going to bump off of the corners of other cabinets or walls. Planning the space for your cabinet doors needs to have enough swing direction and clearance so that things aren't going to be bumped, banged, or left dented. Knobs and draws and pull handles should also ensure that they are away from any corners so you don't end up with dents in your wall over time.
Put things at the right height
Your kitchen cabinets shouldn't be bumped into when you are opening doors. And be able to cook on the stove without the extractor fan knocking into the corner of your head. Make sure you can reach up to the microwave without having to strain or stand on tiptoes. Making sure that your microwave is at a good height is important if you want to be able to cook and not have to worry about things being banged into. You can have your microwave on the countertop or even below it if it works for you. But if you want to have it at a height then you need to make sure it's at the right height for you. 
Add a kitchen island
If you do have a large kitchen and you do have the space, then adding a kitchen island is a good idea. You do have to determine what the kitchen island will be for though. For example, some people like to put their hub onto the kitchen island. And others like to use it as a dishwashing and sink space. If you'd like to use the island to cook and eat on, make sure that the space is enough so that you can cook safely.
Plan a pantry
One of the best design tips you will ever have for a kitchen, especially if you have enough room for it, is a butler's pantry. Being able to walk into a pantry and see shelves lined with all of your pantry goods and food is going to make you feel fantastic. It will also give you so much more space in your cabinetry for storage and not food items.
Think about the materials that you choose
Your countertop choices are going to need to be considered here, and materials matter. For example, if you plan to do a lot of chopping and cooking, you don't want the countertop type that's going to stain or scratch easily. You're spending a lot of money on your kitchen and you want it to be right. But that means that you need to think about the long term hardware. Are you going to be able to replace your countertops every year or every time there's a scratch? Probably not.
Add extra storage around your oven
Not just your oven, but your hob and your extractor fan have to be placed correctly in your kitchen so that it's safe. Adding extra storage around this area will help you to apply important cooking essentials. If you like to cook regularly with oil, salt and pepper, have a stand on the wall. Make sure that you have good S hooks on the side of the range for any pots and pans. And you can even get magnetic knife storage for your knives. It's good to have your cooking knives right next to you when you're cooking.
Consider adding a new tap
If you currently have faucets by your sink but nothing by your oven, consider adding one to the space where your oven is. Perhaps a swing out tap that you can just move above any pots or pans that you want to fill with water. You'll be able to let go of lugging pots and pans through the kitchen. Also you will be able to continue to cook without having to drop anything. Or have water dripping everywhere. You could also add an extra long hose attachment on the main tap.
Join Us!
Sign up today to receive a FREE printable guide to decluttering ANY space and monthly emails packed with inspiration to help you on your tidying journey