Living on your own – a pain or a privilege?
As the founder of A Tidy Mind, it's fair to say 'home' has always been an anchor for me. Never particularly free spirited, it was my dream to buy a home and by hook and crook I managed to purchase a flat at the age of 23. Now it's my dream to pay off the mortgage on my house – a goal which is still very much a work in progress.
But regardless of owning or non owning, I know I see 'home' as a place to lock myself away – often on my own – despite the fact I live with three other people and two animals. I NEED my time alone. I even persuaded my family to give up a bedroom in the house so that I can have my own office – with a lock on the door naturally. At university, I was beyond excited that I had my own tiny dorm room rather than the allocation of a shared room. And on Hen weekends I have paid extra to have my own room. I'm not anti social! I just value my own company and need it to recharge.
So there we have it – NO problem with living on my own and in fact I've engineered it in the past. So how come the three years I spent living solo in my flat in my 20s were so challenging? I experienced some seriously lonely times within those four walls. But I never got a flatmate or moved into a shared house.  I guess the benefits always outweighed the drawbacks but it was paradoxical. They say humans are social creatures but also need a retreat from the world – so perhaps it's a balance of the two that we really need.
Having lived in my own and since I work with plenty of clients who are living solo, I've put together a survival guide to deal with some of the unique challenges as well as highlighting the huge advantages of having a space that's truly your own: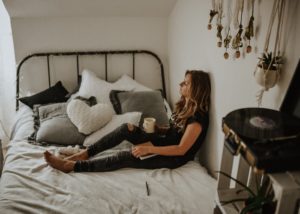 Dealing with loneliness
Plenty of young people long to leave their childhood home and have their own space, but can't afford to. Then there are the ones who are sick of their current roommates, not to mention quite a few people who wish they had some more time to themselves. 
But living alone, whether you're renting or you're a homeowner, can be isolating. It's vital to be comfortable in your own skin and to be able to sit with your thoughts but also know when to let them go. It can be hugely beneficial to get in touch with your creative side as a way to fill spare time at home. And of course, have a support network in terms of evening activities, whether online or in person.
Being self sufficient is a skill which needs to be acquired but can be lead to intense personal growth.
Eating properly
No-one is going to tell you off for eating cheese on toast for the third evening running and it can seem like an effort to cook for one. However, nourishing yourself is a vital part of your self care. Batch cooking healthy meals and then freezing portions is a great way to ensure you eat healthily with minimum effort.
Also use videos like these in your spare time to help you out –  even when you've only got a few minutes until the corner shop closes and an hour or so to be in bed at a healthy hour, recipes like these can help you out! (Video by 5-Minute Crafts)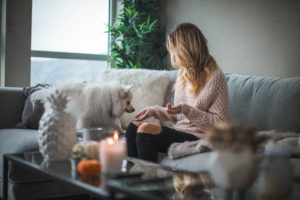 Getting Locked Out
You're all on your own, there's no one left inside to open the door for you! Even if you've got a cat or dog, they're probably not talented enough to unlock a door that's twice their own height…
Living on your own forces you to have contingency plans in place in scenarios such as these, whether that's Local Locksmiths, or a key safe in the garden.
Experiencing a Power Cut
You don't have anyone else around to tell you it's just the electricity and not your own eyes, and you don't have anyone to help guide you to the cupboard where you keep the torch and the emergency candles! And what if there's a surge? You don't have someone else on hand to remind you to unplug the TV that cost the earth.
Again, being prepared is the key. So make sure your phone already has a flashlight app. And make sure those aforementioned torch and candles are always kept in their allocated homes.
---
In 2017, there were 3.9 million people living alone aged 16 to 64 years. And by the end of 2018 that figure is set to double. Many do so happily and through choice but some are experiencing isolation – look around at your neighbours, family and friends and see if you can identify someone to reach out to. A kind gesture or checking whether they are okay might be exactly what they need and appreciated more that you could know.
Thanks for reading
Kate – Founder of A Tidy mind
Join Us!
Sign up today to receive a FREE printable guide to decluttering ANY space and monthly emails packed with inspiration to help you on your tidying journey