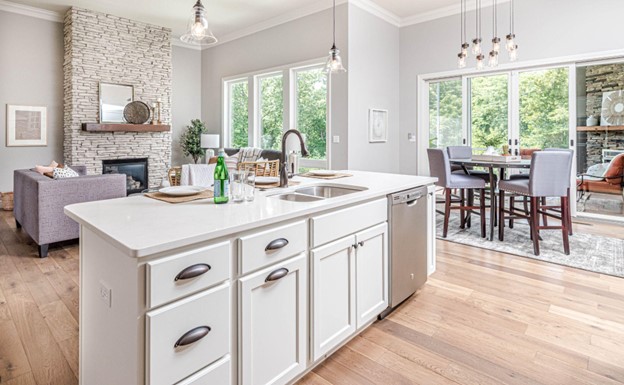 An open-plan kitchen and dining room can be a fantastic addition to any home. It will open up the space and make it the perfect setting for entertaining friends and family, encouraging guests to socialise and interact with one another.
However, actually creating an open-plan kitchen and dining room is easier said than done. It's one of the most involved and complex home renovation projects out there. So, should never be approached with anything less than the utmost care and thought. We've written up a guide with three top tips to help you create your perfect open-plan kitchen and dining room. Read on to check it out.
Knocking Down Walls
The first and most important thing you're going to need to think about when creating an open-plan kitchen and dining room is the walls. The walls in our home are designed to segment the space and partition separate rooms. If you want your dream open-plan space, one or more walls will have to come down.
The idea of knocking down a wall or walls can seem intimidating. But it's actually easier than you might expect, provided you plan and prepare accordingly. You'll need to figure out what kind of walls you're dealing with. Stud partition walls can be removed by yourself fairly easily, but partition or load-bearing walls are more difficult and may require help from a demolition contractor such as www.abruss.co.uk.
Think About the Layout
Open-plan kitchens are incredibly versatile and can be designed in a number of different ways. While this flexibility is certainly one of their strengths, it can also leave some people frozen with indecision and incapable of making a final choice for their space.
It can help if you think about what exactly it is you want from your open-plan space. If you want to be able to speak to guests while you cook and prepare food, then having the stove on an island facing the dining area is your best option. Otherwise, you could have the cooking area on the far wall and leave the island free as a space where people can sit, eat and drink.
Consider the Lighting
You may have to reconsider your lighting for an open-plan kitchen. The space will be bigger, so you may have to add additional lights to ensure it's properly illuminated. And your guests can see the delicious meal you cook for them. You don't want things too dark, as this can actually decrease feelings of hunger. Not ideal for a dinner party!
The space where your walls used to be should be the primary focus of your attention. This is essentially a new space in your home, a section that wasn't considered when laying out your original lighting. Sometimes, re-angling your existing lights can do the trick, otherwise, you may have to consider installing additional lights.
Declutter Your Space
Part of transforming this space into a combined kitchen and dining room may involve having a good declutter. In an open plan space, clutter will be more difficult to hide. Plus, it's a good opportunity to work out what adds value to your life. Conversely, what would be best passed on to someone else? See this post for kitchen decluttering tips and this post for dining room decluttering tips.
Conclusion
If you've always dreamed of an open-plan kitchen and dining room, don't be put off by the scale of the task. While it's certainly a big job, by planning and preparing properly you'll have your perfect space before you know it.
Join Us!
Sign up today to receive a FREE printable guide to decluttering ANY space and monthly emails packed with inspiration to help you on your tidying journey