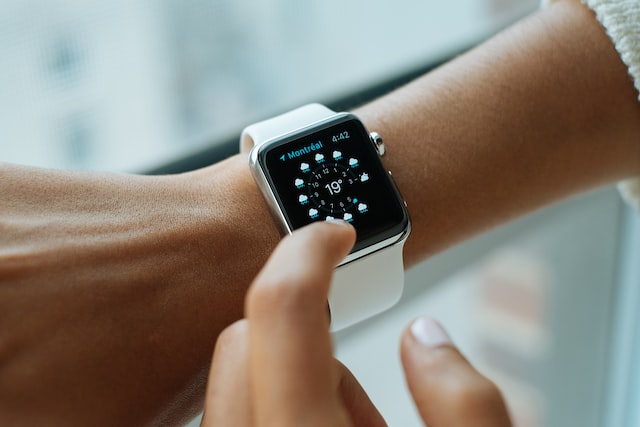 At A Tidy Mind, we believe in embracing technology to automate, streamline and organise life. If you're thinking about purchasing a smartwatch to help improve your fitness, you're probably wondering if they are worth your money before investing. There's a huge range on the market. So which are the best smartwatches? And how do you cut through the overwhelm and find one to suit your budget, activity and goals? Can a fitness tracker really help you when it comes to improving your health?
The answer is, yes! But make sure that you choose a device that is suited to your needs. If you're looking to track your workouts, make sure you choose a watch that has this function and allows you to view your data, or if you're simply looking to track your runs, choose the best fitness tracker suited to runners to get the best results.
Benefits of a smartwatch for fitness  
There is a range of health benefits that come with choosing to use a smartwatch to track your fitness such as:
Accountability: These watches keep you accountable, they help you to stay on top of your goals and work towards achieving them.
Helps you manage weight: They can help you to realise how many calories you're burning vs. how many calories you're taking in – one of the main factors that help manage weight and performance.
Tracks heart rate: You can keep an eye on your resting heart rate, as well as your heart rate zones when exercising with one of these trackers, which can help you recognise any issues, or if you need to work harder on improving your fitness.
Tracks sleep: You can set bedtime reminders on your smartwatch to ensure that you're getting the best quality sleep so your body can rest and repair.
Communication: You can connect your phone to your smartwatch, so you can stay connected no matter where you are.
If you've decided that a smartwatch is a product that you'd like to try, to help you track your fitness and achieve your goals, you're going to need to do a bit of research so that you know which meets your requirements. Below, we'll look at some of the most popular smartwatches to help you make your decision.
Fitbit Charge 5
This is one of the most popular smartwatches that you can wear all day long. The Fitbit Charge 5 is a sleek and modern-looking watch that features a screen which is integral to the strap. It is a simple design, but it packs a lot of technology into its small size. It's one of the best fitness smartwatches overall – and it's easy to see why with its bright, always-on-display, and touchscreen that is easy to read. Its features include a heart rate monitor, and sleep tracker and it can be used to log sports like swimming, running and HIIT workouts. If you're looking for a watch that isn't too bulky and is easy to wear all day, the Fitbit Charge 5 could be the best option for you.
Apple Watch Series 7
If you have an iPhone, the Apple watch series 7 may appeal to you. These smartwatches connect to your phone for an in-depth look at your workout and health statistics. With a larger face than the Fitbit, the Apple Watch looks modern and chic, but it doesn't skimp on workout modes either. This watch boasts 14 different workout modes which are perfect if you want to track your cycling, walking or weight training. You can also access Apple Fitness Plus where you can access a range of workouts with coaches and trainers on hand to help. If you're looking for the most modern smartwatch, the Apple Watch could provide everything you need.
Samsung Galaxy Smartwatch
Although it is called a Samsung Galaxy smartwatch, you don't need to have a Samsung device for it to be used. This smartwatch is a product for anyone that wants the look of your traditional, round-face watch, with all the added extras of a smart device. The watch measures your heart rate, takes ECGs, and can read your body composition, which is a great feature for helping you reach your health goals. You can track your activities with ease, and your watch will automatically start tracking even if you forget to start it. It is swim-proof and allows you to track sleep and your heart rate.
Coros Pace 2 Smartwatch
Just like the Samsung, the Coros Pace 2 has a traditional round-shaped face but is far from your everyday watch. This smartwatch is said to be one of the best for runners, with a lightweight feel, with high-end features. It can track your heart rate like the others and provides accurate GPS for those long outdoor runs, as well as 16 other built-in modes for tracking strength workouts, and walks and it is waterproof, so it is perfect to help calculate calories burnt after a few lengths in the pool! It is a smartwatch that is great when tracking fitness, and when it comes to value for money.
We hope you found this overview useful and have more clarity on the best smartwatches for you. You might also like to check out these previous posts:
Can automated tech make your home run like clockwork?
Join Us!
Sign up today to receive a FREE printable guide to decluttering ANY space and monthly emails packed with inspiration to help you on your tidying journey