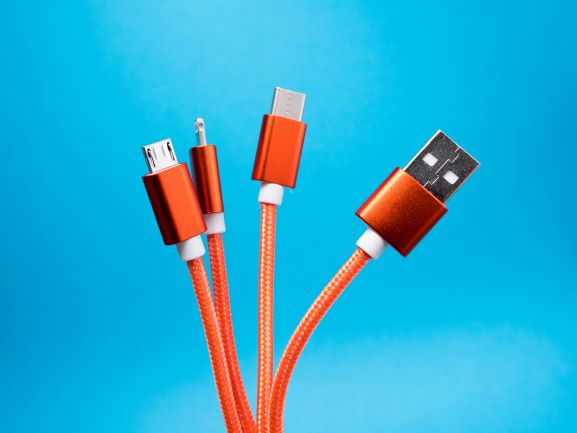 If there's one thing we didn't expect from becoming more reliant on technology, it's that we would also need to contend with wires, cables, and cords running across the floor like a snake lying in wait to trip us up. If this is you, you need to know how to organise leads and cables in your home or workspace.
Stray cables aren't just hazardous, they are also ugly, and this is why cable management is so important. Whether it's the office, or the home, maintaining superb cable management will guarantee a tidy and safe environment where you can stay focused all day long. 
The unidentified ones
If you've ended up with a tangled mess of wires and cables and you're not sure if you own the devices to go with them, take heart – you're not alone! To prevent this in the future, try to store the cables with their intended device where you can. When the device becomes obsolete and you recycle or trade it in, you can lose the cable at the same time. For the unidentified cables, put them in a box with today's date on. Write a note in your diary to get them out in 6 months time and it you haven't used them, you know you can safely recycle. All is not lost if you get rid of something you shouldn't – most cables are easily and cheaply replaceable.
Cable boxes
If you have a lot of cables in one place, cable boxes are a superb and straightforward solution. This is especially useful with home video and audio setups from https://jnbtech.co.uk/, but they can also work for home office setups and more. 
These cable boxes will give you a place to run the cables through to keep them out of the way. The power strip sits in the box, and you can plug each device into this, leading the cables out wherever you need them. 
If you're feeling creative, you may be able to dock your cable box to the wall or your desk to keep it out of the way entirely and eliminate the risk of trips and tumbles. 
Cable label
Labeling your cable is perhaps the easiest way to achieve optimal cable management, especially if you have a home office setup that demands an array of wires that all look the same.
Even with other methods of cable management, labeling your cables will make your organisation and control much more straightforward. You will know where everything is, and never need to follow the cord to the source to make sure that you don't unplug the wrong thing. 
After labeling your cables, unplug each of them and rearrange them on the extension strip so that they follow a more logical setup. This will also make it easier to identify the right cable while also preventing straining and twisting that could impact the connection. 
Do it yourself
While there are plenty of actual cable management products available, you can also do it yourself if you feel handy enough. All you need is to get a little creative. Any old boxes or organisation tubs and trays are ideal for getting started, but you may need to source some scrap wood and paint if you want to guarantee excellent quality and durability. 
Doing it yourself needn't just be about managing cables you have plugged in, though. You can also take cables you aren't currently using, such as USB cables or plugs to an old console. As you may need them at some point, you can make it easier on yourself by labelling, securing them with ties and organising them in one place for when the time is right. 
Like a Work of Art
Some cable management examples are remarkably impressive, but you don't need to create the cable equivalent of the Sistine Chapel to maintain fantastic cable management. As long as you find a way to keep them out of the way, especially so they won't trip people up, you can enjoy spectacular cable management that will make you forget there are any cables there at all.
Join Us!
Sign up today to receive a FREE printable guide to decluttering ANY space and monthly emails packed with inspiration to help you on your tidying journey