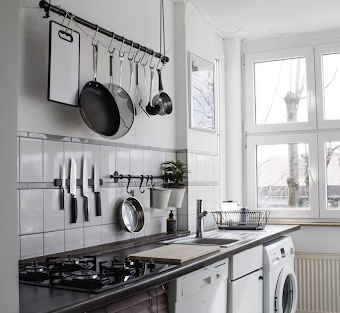 A luxurious kitchen serves as the heart of a home, not only as a place to prepare meals but also as a gathering spot for loved ones. Today's luxury kitchen designs offer both appeal and impressive efficiency.
Modern kitchen designs combine beauty with features. Whether you prefer elegance with materials like marble and brass or sleek sophistication with cabinets and stainless steel appliances, we have plenty of options to suit your taste. If you're looking for high-quality fixtures and premium finishes to elevate your kitchen, you can shop houseware at aboutliving.co.uk to explore a wide range of options.
Join us as we explore the luxury kitchen designs showcasing ideas that seamlessly blend high-quality fixtures, premium finishes, and user-friendly layouts.
Luxury Cabinetry and Countertops
Nothing elevates the aesthetic of a luxury kitchen quite like exquisite cabinetry and countertop materials. Granite, marble, and quartz are exceptional choices that bring timeless elegance. Whether it's lush veining in deep emerald green granite or delicate gray swirls in sleek quartz, these premium stone surfaces are both durable and beautiful.
Here are some of the ways they can give your kitchen a luxurious look.
Customizable cabinets allow for optimized function in high-end kitchen designs
Soft-close drawers and doors provide smoothly graceful access to every tool and appliance
Deep pull-outs installed in island cabinets easily reveal large pots and serving pieces
Stainless steel panels integrated into cabinetry offer a striking modern look
Wire pull knobs or recessed pulls on matte black cabinetry create dimensionality through contrast
Marble remains ever-popular for counters due to its versatility, from crisp white statuary to dark emerald gemstone-flecked varieties. For those desiring low-maintenance luxury, engineered quartz expertly mimics natural stone at a fraction of the cost. With innovative full-length slab construction and seamless edges, luxurious countertops can match any design aesthetic.
State-of-the-Art Appliances
When designing a luxury kitchen, only the most advanced appliances will do. Homeowners demand top performance as well as elegant aesthetics from these prominent appliances.
For cooktops and ovens, professional-grade models from brands like Wolf Range, Viking, Miele, and Thermador are ideal. Their industrial-strength power delivers even heat for precise cooking. Ranges feature Bluetooth connectivity, capacitive touch controls, and automated cleaning systems for fuss-free use.
Refrigeration technology has also advanced dramatically. Side-by-side and bottom-freezer models from Sub-Zero and Monogram conceal themselves behind matching paneling for a seamless look. Touchscreen displays perform as smart centers, providing recipe ideas, streaming music, and interior cameras. Dual compressor systems maintain independent climate zones for optimized food preservation.
Dishwashers hide behind the same panels as other appliances for continuity. Models from Asko and JennAir boast third-rack washers, heated drying, and sensors that detect soils and adjust cycles accordingly. Quiet operation allows for running loads anytime.
State-of-the-art features translate to high performance alongside flawless, integrated design in luxury kitchens. Premium appliances are a worthy investment to complement gourmet cooking and entertainment.
Custom Design Elements
Custom millwork and cabinetry are hallmarks of luxury kitchen designs and allow for unique functionality and aesthetic flair. Bespoke cabinetry can be crafted in fine wood varieties and coated finishes to seamlessly integrate cooking, storage, and display areas. With wooden slat detail, glass front panels, or integrated stone surfaces, custom cabinetry sets the tone. Built-in feature walls offer hidden refrigerator panels, pull-out pantries, and creative storage solutions like drawer stacks and charging docks.
Tile backsplashes make a glamorous statement and protect walls from inevitable splatters and spills. Choose from mosaic, stone, or metal tiles in patterns that coordinate with the overall style. Backsplashes can extend makeup to surround cooking and sink areas for a polished look.
With a coordinated blend of custom millwork, tile, cabinetry, and countertops, luxury kitchens realize truly one-of-a-kind layouts and personal design directions for refined entertaining and lifestyle.
Go for Great Function and Luxurious Style
While luxurious designs may seem purely aesthetic, today's most high-end kitchens expertly marry attractive form with practical function. Through clever planning and innovative storage solutions, these spaces showcase how elegance and usability can seamlessly coexist.
Join Us!
Sign up today to receive a FREE printable guide to decluttering ANY space and monthly emails packed with inspiration to help you on your tidying journey