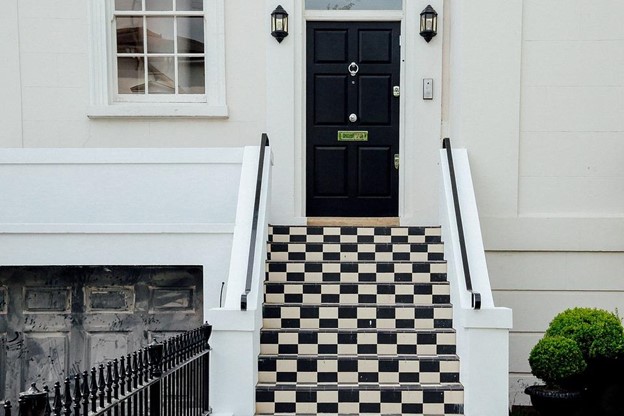 There are many ways that you could take your house up a level. It may involve decluttering multiple rooms or enhancing the exterior. The latter can increase the curb appeal and value of your property. With a few simple projects, you could make significant changes to the way it looks and feels. In this article, we'll be discussing some of the top ways to transform the exterior of your home, and give it a brand-new look.
Apply A Fresh Coat Of Paint
This is one of the easiest and most effective ways to transform your home's appearance. You may want to create a bold statement with a bright colour, or keep it classic with a neutral shade. When selecting the color or finish, consider factors such as climate, architectural style, and personal preference. Before applying the paint, ensure that the surface is thoroughly cleaned and prepped. This includes removing any dirt, debris, or previous coatings that may interfere with adhesion.
Depending on the condition of the surface, additional steps (such as sanding or priming) may be necessary for optimal results. It's important to choose high-quality products that are specifically designed for exterior use. Make sure you use the appropriate tools, such as brushes, rollers, and sprayers. Apply even coats, and allow adequate drying time between them. With careful planning and execution, a fresh coat of paint can give your home an instant facelift. At the same time, it'll protect your home from weather damage for many years to come.
Upgrade The Cladding
If you're looking to improve the cladding of your home, there are plenty of options available. Vinyl siding is affordable and low-maintenance, and it comes in a wide range of colors and styles. Another option is fiber cement siding, which offers excellent durability and resistance to weathering. If you're looking to add privacy and beauty to your home's exterior, one option to consider is cedar fencing – visit this site to order cedar fencing online. For those who want a more modern and contemporary appearance, metal cladding may be the way to go. It's available in various finishes, such as copper or zinc. It can add texture and dimension to your home's exterior, while also providing protection from the elements.
If you're going for an eco-friendly approach, consider using reclaimed or recycled materials for your cladding. The internet can advise you regarding colour options for cladding boards, as well as finishes, installation, maintenance, FSC Certification and UV resistance. You can discover the weight per board and view galleries, and read product reviews and related blogs. Finally, hire professional contractors who have plenty of installation experience, to ensure that the work's done correctly.
Upgrade Your Windows And Doors
If you have old and worn-out windows or doors, it may be time to replace them. This could enhance your home's overall aesthetic appeal, and increase its energy efficiency. The new windows and doors would keep your house cool in summer and warm in winter, saving you money on your energy bills. When choosing these items, consider their style, material, color and finish to ensure they complement the overall design of your home. You could opt for a more traditional look with wooden frames or go for a modern look with sleek aluminum frames.
Upgrading your windows and doors can improve security if they feature reinforced glass, multipoint locking systems or smart locks (that allow remote monitoring from anywhere). In turn, you may be able to bring down the cost of your home insurance. Lastly, don't forget about functionality. Choose sliding patio doors that provide easy access to outdoor living spaces, or double-hung windows that offer easy cleaning options.
Attach An Awning
This could add functionality, whilst providing extra style and character for your home. There are several types available on the market, including retractable, stationary, metal, and fabric. Retractable awnings are perfect for those who want a versatile option that can be adjusted depending on the weather conditions. They provide shade during hot summer days and can be retracted during cooler seasons to allow natural light into your home. It's also an ideal choice for those with limited outdoor space.
A stationary awning is ideal for those who want a permanent fixture that can withstand harsh weather conditions. Metal awnings are suitable for those who want a sleek and modern look, while fabric awnings are great for adding color and texture to your home's exterior. Whichever type you choose, make sure it complements the style of your home's architecture and enhances its overall appeal. An awning can provide protection from sun exposure and rainwater runoff, whilst shielding your outdoor furniture from the elements.
Add Stylish Lighting
A well-lit exterior can enhance the curb appeal of your house, and add an element of safety and security. For example, motion sensor lights are ideal for deterring intruders and conserving energy. Wall-mounted sconces are perfect for illuminating entryways or highlighting architectural details on the walls. Pendant lights work well above porches or outdoor seating areas. Post lights can be installed along walkways or driveways to light up these areas at night.
Spotlights are perfect for highlighting trees or features in the garden. Strategically placed lighting can create a warm and inviting ambiance, while ensuring that dark corners aren't left unlit.
Add Some Privacy
If you install a fence around your property, it can improve the privacy and aesthetic value of your home. It could be made from various materials such as wood, vinyl, or metal. Another option involves planting hedges or trees along the perimeter of your yard. This will give you natural barriers between neighboring properties, while enhancing the beauty of your property's exterior. You can choose from different species of plants, depending on your preference, location and climate.
If you're looking for more dynamic options, consider installing retractable screens or pergolas. They can be placed in areas where you need more privacy, such as patios or decks. As with awnings, they can also provide shade and protection from the weather.
You may also wish to research ways to enhance your landscaping. When these different changes come together, they can make a dramatic impact on your home's appearance. You'll enjoy life at home as never before, and be maintaining its value and visual effectiveness. If you need some additional tools to take on these DIY tasks, you can browse Magswitch products at Stonex here to ensure you're well-prepared.
Join Us!
Sign up today to receive a FREE printable guide to decluttering ANY space and monthly emails packed with inspiration to help you on your tidying journey