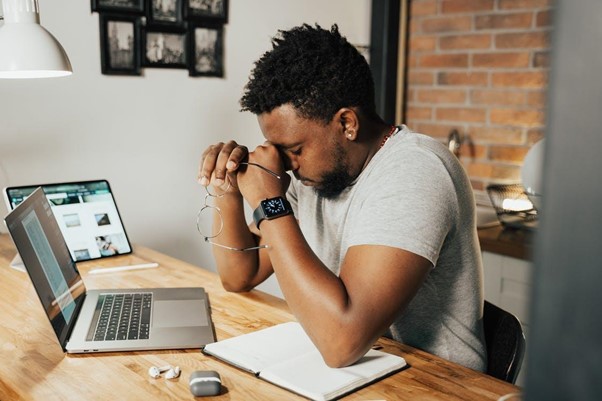 In a bid to manage the spread of the coronavirus pandemic, most governments around the world encouraged schools and organisations to allow students and employees to study and work from home. Since then, most institutions embraced remote working.
We often work with clients to help them organise their home office or paperwork. We also help with digital decluttering and organising and provide time management coaching.
As a remote worker, your primary goal is to boost your productivity and performance. To achieve this goal, you need to invest time and energy in creating a conducive remote working environment. While most people enjoy working from home, it's not all about pulling a chair and starting your work day. Organising and maintaining your workspace can improve your productivity and work-life balance. You'll also have a clear distinction between office and personal work. In this post, we are going to help you learn how to create the perfect home office setup for remote working.
Importance of a perfect home office setup
Most workspaces and offices invest in comfy equipment, lighting, and other improvements to enhance the quality of life and boost productivity. These factors play an important role in setting up your home office because they ensure that you don't feel strained or stressed while working.
Poor lighting, uncomfortable seating, and equipment will not only lead to strain but also a wide range of health issues in the long run. On the other hand, a good remote working setup promotes productivity, health, well-being, and a healthy work-life balance. With these points in mind, here are some tips that you can use to set up a perfect remote working environment.
Tips for setting up a perfect remote working environment
A great home office setup consists of a wide range of components. However, here are some important points that you should keep in mind when setting up a remote workspace to boost your productivity and performance.
Good lighting
Sufficient lighting in the work environment is one of the most important things to consider when setting up your workspace. Lack of adequate lighting can lead to a host of health issues such as eye strain, headaches, and fatigue. Therefore, investing in good lighting can positively affect your health. Always try to have as much natural light as possible in your workspace to keep you active during the day. Also, position yourself in a way that will help you avoid glares on your screen. 
Computers usually reflect light just like mirrors. And this can make it difficult for you to see. Using indirect light sources will help in reducing glare. Another great way to improve your lighting is by investing in smart bulbs. With these bulbs, you can configure how much light you need during the workday. If you are reading books, a desk lamp can improve the lighting of the room.
Organise your workspace
Unnecessary objects in your workspace can take up a lot of space and distract you while working. On other hand, a well-organised home work space will help you feel relaxed and stay focused while working. Optimise the space around your desk to store lesser used items out of sight in drawers or boxes. Create a system so you have a place for 'pending' projects and keep similar types of stationery items together so you know what you have. Delegating certain tasks, for example, to a resume writing service will help free up time.  Organise paperwork and other digital files in categories so you streamline your work and avoid wasting time looking for important documents during the workday. Bluetooth devices will keep your workspace cable-free and give you more working space.
1.  Invest in a comfy desk, chair, and keyboard
As you work from home, investing in ergonomic equipment will boost your productivity and performance in the long run. Plus, you'll avoid severe health complications. A standing desk enables you to adjust your table's height and keep your computer parallel to your eyes. This will help you avoid straining your neck and back. 
A comfortable chair will help you support your lower back and arms. You can greatly reduce the chances of neck and back injury in the long term. A common injury that most people face due to frequent keyboard usage is Tendonitis. And it can lead to serious damage which can take time to heal. Investing in an ergonomic keyboard and getting help from Careers Booster will eliminate stress on your forearms and wrists. Matching your keyboard with your seating position will also improve your typing experience.
2. Get sticky notes and a whiteboard
Sticky notes and a whiteboard will help you with weekly and daily scheduling. Whiteboards will help you manage projects with to-do lists and give you an overview of your work week. On the other hand, sticky notes will help you stay on top of your daily tasks. Many people use a method called Kanban very effectively. Investing in these tools will help you manage your time effectively and boost your productivity.
3. Get some plants
Plants not only improve the look of your workspace but also bring lots of fresh air. Various research studies have shown that plants can reduce stress and promote health and wellness. For you to enjoy all these benefits, you need to water your plants every day and expose them to sunlight. If you tend to have a busy schedule, consider investing in plants that don't require a lot of work such as Aloe or Cacti.
Conclusion
A home office should provide a conducive environment for studying and working. Investing in good lighting and keeping your space clutter-free is one of the best ways to create a home office setup for remote working. Which tips are you going to use today to transform your home office?
Thanks for reading
A Tidy Mind
Join Us!
Sign up today to receive a FREE printable guide to decluttering ANY space and monthly emails packed with inspiration to help you on your tidying journey