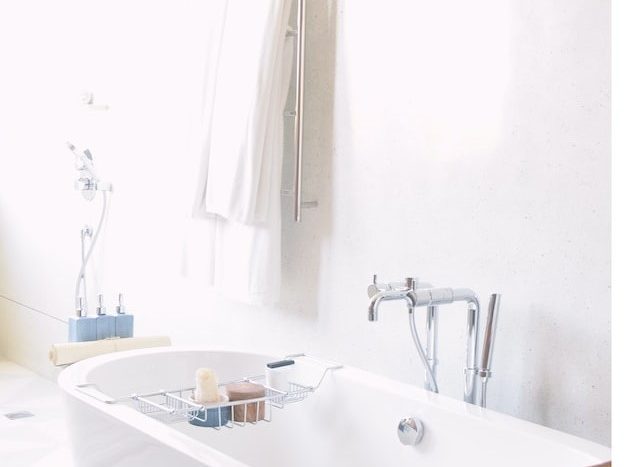 Bathroom design has come a long way over the years. And for those who are looking for a bathroom renovation or simply a refresh, the latest trends offer a unique opportunity to create a space that is both stylish and functional. Whether you're looking to create a retreat-like oasis or a modern, contemporary space, there are plenty of bathroom specialists to choose from, like Wholesale Domestic. 
From contemporary fixtures and finishes to innovative storage solutions and spa-like features, the latest trends in bathroom design can help transform any space into an inviting and indulgent retreat. With the right design and an experienced contractor like houseUP, you can create an aesthetically pleasing, comfortable and up-to-date bathroom. In this blog post, you'll learn about some of the top trends in bathroom design today. And find out what to expect when it comes to designing a modern, functional bathroom.
Natural Materials
Natural materials are a must-have in bathroom design. These materials, such as wood and stone, add a natural warmth and texture to any space. With a wide variety of woods and stones to choose from, you can find the perfect combination that fits your unique design style. Natural materials are low-maintenance and timeless. This makes them an excellent choice for any bathroom remodel.
Innovative Fixtures
Fixtures such as heated towel racks and special showerheads with built-in Bluetooth speakers are becoming increasingly popular. Not only do these fixtures provide a luxurious feel to the bathroom, but they also offer technical convenience and enhanced user experience. Additionally, you can consider the development of smart toilets and bathroom appliances. These include toilet seats with built-in bidets and air showers. Fixtures like these continue to push the boundaries of bathroom design in the coming years.
Whatever fixtures you improve, you have to consider if you need to update the plumbing to keep them working happily and healthy. You may be in need of plumbing repairs that you're not aware of, and the stress of new plumbing needs might be too much for them. It's always wise to get a professional out to check your pipes before taking on any major projects with the bathroom.
Clever Storage Solutions
As bathrooms become increasingly more functional, savvy storage solutions are becoming more and more important. Clever storage solutions such as built-in shelves, cabinets, and drawers provide a neat and tidy look and help maximise space and make bathrooms more efficient. There are numerous stylish products on the market, including wicker baskets, floating shelves, and wall-mounted cabinets. They're all designed to keep your bathroom organised and clutter-free. Additionally, there are also vanity units with built-in storage units, perfect for tucking away daily necessities.
Smart Technology Integration
Smart technology integration is one of the most prominent trends in modern bathroom design. This technology can automate various features, making your bathroom a more convenient, enjoyable, and luxurious place. For example, smart toilets, showers, and bathtubs are becoming increasingly popular. They allow users to control the temperature, water pressure, and other features with just the touch of a button. Smart mirrors, lighting, and sound systems are also becoming more common, allowing for a truly immersive bathing experience.
Bold Colour Palettes
We're seeing more homeowners incorporating bright and vibrant colours for a modern yet bold look. Bright yellows, oranges, greens, blues, and purples are all on-trend, and when used sparingly, these can create a stunning contrast against neutral walls or countertops. When using this trend, it's important to be mindful of how you layer bold colours. Too much can be overwhelming, so be sure to blend your colours and maintain a balance.
Conclusion
It's clear that bathroom design is changing rapidly. From modern, minimalistic styles to bold statement pieces, it's essential to stay on top of the latest trends in order to create a bathroom that is both functional and aesthetically pleasing. With the right knowledge and resources, you can create a bathroom oasis that is sure to impress.
Join Us!
Sign up today to receive a FREE printable guide to decluttering ANY space and monthly emails packed with inspiration to help you on your tidying journey